Welcome to our shiny new website!
See how ChannelUnity can be a part of your business and help you explore the opportunities of multi-channel marketplace selling.
ChannelUnity works in close partnership with customers to grow sales and scale up. We're building and releasing new modules to help improve listings and adding integrations with additional marketplaces.  We share these options amongst all our customers to help drive growth and in our blog we'll share our story with you as we expand our capabilities.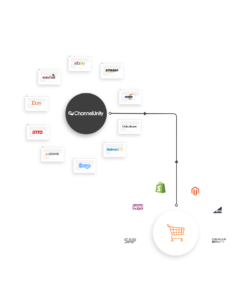 How can we help you?
Our solution brings together all your product data, marketplace listings and orders in one simple user interface. We provide plug-in apps for most of the major ecommerce shopping carts as well as several ERP/order management systems.  
On the marketplace side, we support for 18 different international eBay sites and 10 different Amazon sites, plus multiple other marketplaces.  We recently added Otto and Zalando and have more in the pipeline. 
Take a look at the Success Story section of our site – Customers like Ben Sherman, JD Sports, Yours Clothing and Ooni are already benefiting from our service and we'll be publishing more news about recent go-lives.   
In building our new marketing website we started  by asking existing customers what value they get from ChannelUnity.  Everything we're saying here is based on real-life customer experience ".   

 Harry Manley, Commercial Director.  
We've been working on the new site over the past few months with our friends at Digitl.  a full service eCommerce, web design and marketing agency.  Working with Digitl has allowed ongoing work on our solution to continue unaffected.  We believe this website will be an accurate representation of our business value, and help us attract and retain many new users. 
Check out the new site and fill out the contact form, to start your ChannelUnity journey today.